L.147
An American student lamp by The Cleveland Non-Explosive Lamp Co. in Cleveland, Ohio, from about 1876. This lamp hardly differs from the reading lamps by C.A. Kleemann, which were marketed with great success in the USA from the 1860's onwards. Kleemann's reading or student lamps were so popular in the USA that some American lamp companies copied them unchanged. As a result, there are many more reading lamps in the USA than in Germany. However, the vast majority of them are electrified. Unfortunately, the non-electrified lamps that have survived in their original condition are very rare. I got one of them by great luck.

The lamp is - as with Kleemann lamps - equipped with an Argand burner. The wick is adjusted - also analogous to the original Kleemann lamps - by turning the shade holder (see Kerosene/Paraffin Burners - Wick and Wick Drive - The "Argand Burner" without Wick Knob).

The lamp is completely nickel-plated. The nickel layer is rubbed off on the base and partly also on the support rod.

The American Kosmos chimney is a special size, probably made for this type of Argand burner. The Vesta shade is a normal 7 inch size. Its shape is very similar to the student lamp shades made by the American glass shade manufacturer Ives. These shades are made in USA only for the student lamps.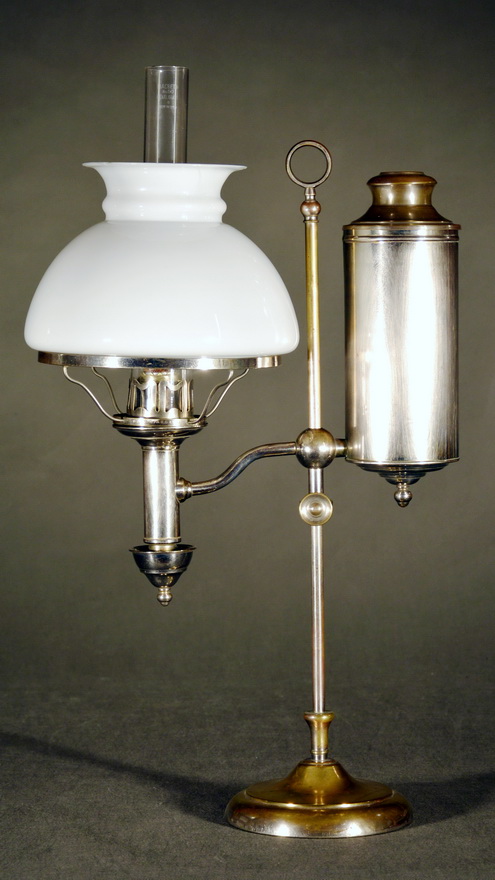 Lamp Data

Added by me:
All parts are original parts of the lamp.

Cleaning and repairs:
Metal parts cleaned and polished.

Lamp body:
Base and central post of iron, nickel-plated (nickel layer partially rubbed off), Ø 145 mm. Total height of the post 51.5 cm.
Burner and font container of nickel-plated brass are connected with a bent tube and are variable in height.
Font made of tinplate, hidden in the cylindrical font container of nickel-plated brass sheet, Ø 91 mm.

Burner:
Argand burner with central air draft of Cleveland Non Explosive Lamp Co., USA. Soldered to the shade holder.
No wick knob. Wick adjustment with the shade holder.
Shade holder marked: Cleveland Safety Library Lamp - House Argand - Patd. Nov. 18th 1871.
Special round wick, Ø 20 mm.

Glass chimney:
Kosmos chimney, special size. Height 270 mm, Ø fitter 48 mm.
Marked: Macbeth No.50 Pearl Glass Made in U.S.A.

Shade and shade holder:
Vesta shade, white milk glass, flat top rim. Probably by Ives.
Height 149 mm, Ø fitter 174 and bulge 206 mm.
Own special shade holder 180 mm with 4 support arms, soldered with the burner.

Lamp dimensions:
Height minimum 51.5 cm (height of the central post), total height with chimney maximum 72.5 cm.
Total weight 2670 g.