Books as a Source of Information

Are you a porcelain collector? A watch collector? Or glass collector? Book collector? Then you are in the fortunate position of finding a veritable flood of books and brochures about your collecting field. There is hardly a collecting field worth mentioning that does not have some catalogues, countless illustrated books and even scientific treatises.

Are you a kerosene/paraffin lamp collector? And you want to know as much as possible about your collecting field and are therefore looking for books about it? You will be disappointed; there is virtually nothing you can buy and read, at least not in the German-speaking world. Everything that has been published so far is long out of print, and does not even appear on second-hand book lists! That is my sober assessment after several years of searching. It may be that this is a little too black and white, but it corresponds to reality! In the USA there are publishers who publish a lot about kerosene/paraffin lamps, which can also be obtained quite regularly. In France, a trilogy on kerosene/paraffin, oil and spirit lamps by Bernard Mahot was published a few years ago; these can still be purchased very cheaply. In Belgium, the renowned collector Philippe Deitz has written a first-class book on the history of lighting. In Germany, there is only the book "Leuchtende Vergangenheit" by Dr. Werner Touché (meanwhile published in the second, considerably expanded edition).

I am trying to make a list here of the publications I know of in 3 categories, and leave it up to you whether you want to look for and buy one or the other (provided you actually find what you are looking for). These books are out of print and therefore not available through regular bookstores. However, they can easily be found and ordered via Amazon or eBay of the respective countries. Sometimes they are even available on Amazon or eBay Germany. It is definitely worth a try.


A) Books that I find recommendable:

Here I have collected the books, some of which are very important for kerosene/paraffin lamp collectors, because they contain a lot of information paired with excellent visual material. I have marked the ones that I think are really indispensable with a green dot in the photos.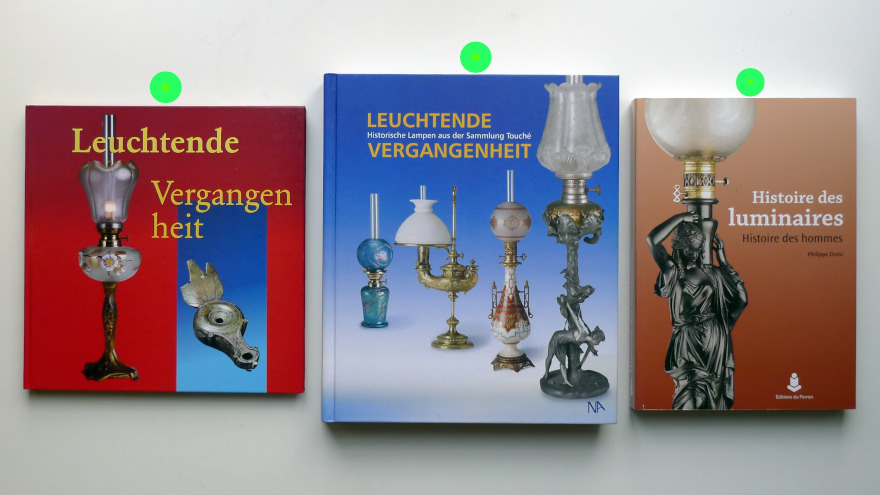 Dr. Werner Touché: Leuchtende Vergangenheit (= Luminous Past)
Hamaland Museum, Vreden, 1999. ISBN 3-927851-50-7 (first edition, 172 pages, German).
For a long time my bible for kerosene/paraffin lamps, until the second edition came out in 2016! Published as a companion book and catalogue to an exhibition of Mr Touché's collection in Hamaland Museum Vreden (Germany). The catalogue section alone with many colour photos is a delight! Highly recommended, unfortunately completely out of print.

Dr. Werner Touché: Leuchtende Vergangenheit – Historische Lampen aus der Sammlung Touché (= Luminous Past - Historical Lamps from the Touché Collection)
Nünnerich-Asmus Verlag & Media GmbH, Mainz am Rhein, 2016. ISBN 978-3-945751-22-0  (448 pages, German).
The second, substantially expanded (448 pages with 974 illustrations!) edition of the previous book. This book is undisputedly the reference book in German on the history of lighting and on kerosene/paraffin lamps! An inexhaustible source for many questions about the history and technology of lighting, especially about the development of kerosene/paraffin lamps, the author's main field of collection. Everything is meticulously researched and presented in a detailed, yet easily understandable way. A must for the German-speaking collector. Absolutely recommendable. There is a second edition of this book (from 2018), which can be ordered through bookshops at a price of EUR 49,90 (as of January 2021).

Philippe Deitz: Histore des luminaires – Histoire des hommes (= History of Lighting – History of Mankind)
Éditions du Perron, Liège, 2009. ISBN 978-2-87114-230-0 (592 pages, French)
The most comprehensive book on the development of lighting currently available. The Belgian author is a well-known collector of lamps and has exhibited his very extensive collection in his own museum in Liège. On 592 pages, the book describes the lighting history of mankind from prehistoric times to the LED lamp in great detail and is illustrated with 1059 pictures, among which hundreds of kerosene/paraffin lamps can be admired. The pictures alone are a feast for the eyes! Highly recommended even for people with little knowledge of French.
Three wonderful books by Bernard Mahot on lighting objects from prehistoric times to kerosene/paraffin lamps. Unfortunately only French, but highly recommended if only for the hundreds of photos.

Bernard Mahot: Les Lampes à essence – L'éclairage de nos aïeux (= Gasoline Lamps - The Lighting of our Ancestors)
Editions Massin, Paris, 2003. ISBN 2-7072-0461-7 (213 pages, French).
A richly illustrated book about lamps using gasoline, ligroin or other volatile mineral oils as burning fluid. Not necessarily interesting for collectors who only collect kerosene/paraffin lamps (like me), but nevertheless informative, as many of the lamps illustrated are almost always wrongly offered as " kerosene/paraffin lamps" in eBay portals. Also worth seeing: countless photos of night lamps or nursery lamps.

Bernard Mahot: Les Lampes à huile (= Oil Lamps)
Editions Massin, Paris, 2005. ISBN 2-7072-0504-4 (237 pages, French).
Again a richly illustrated, large-format book about all kinds of oil lamps. The photographic material on the Argand, clockwork and Modérateur lamps alone justifies the purchase of the book, as there is hardly any comparable alternative to such lamps. Highly recommended.

Bernard Mahot: Les Lampes à pétrole (= Kerosene/Paraffin Lamps)
Editions Massin, Paris, 2006. ISBN 2-7072-0522-2 (237 pages, French).
A wonderful, richly illustrated, large-format book. With hundreds of colour photos of kerosene/paraffin lamps and concise information about them, the book is also interesting for collectors who have almost no knowledge of French but are fascinated by the beauty of kerosene/paraffin lamps. Highly recommended.
W kręgu światła lampy naftowej – By the Light of the Paraffin Lamp
Rzeszów, 2005. ISBN 83-89473-08-9 (320 pages, Polish and English).
Official catalogue of the Polish Lamp Museum in Krosno, Poland. Presumably the second edition (the first was probably published in 2002). The rather weighty book describes in detail the history of Polish crude oil deposits and their exploitation for luminous oils by Ignacy Łukasiewicz, besides a short treatise on the history of lighting and its development up to the kerosene/paraffin lamp. The information on kerosene/paraffin lamps is not very detailed. The value of the catalogue is undoubtedly the lush catalogue section with many colour photos of kerosene/paraffin lamps in the museum inventory, unfortunately with very scarce information. Recommended, but out of print (unfortunately also in antiquarian bookshops).
Anton Kaim: The Evolution of the Kerosene Mantle burner – A Huge Leap Forward in Lighting Efficiency and Energy Saving
Self-published by Anton Kaim, Rotterdam, 2013. No ISBN number (217 pages, English).
A very meticulously researched, very detailed and excellently illustrated book about the development of incandescent lamps and especially incandescent burners. The author has left out no detail. This first edition is no longer published as a much expanded second edition exists (see below). However, the book still exists in an excellent German translation by Dirk Frieborg (since Dec. 2013, 222 pages): Die Entwicklung des Petroleum-Glühlichtbrenners. It can be ordered via the following email address at a price of EUR 44.95 + shipping costs: This email address is being protected from spambots. You need JavaScript enabled to view it.
Anton Kaim: The Evolution of the Kerosene Mantle burner – A Huge Leap Forward in Lighting Efficiency and Energy Saving
Second, fully edited and expanded edition
Self-published by Anton Kaim, Rotterdam, 2019 (second edition 2020). No ISBN number (360 pages, English).
This book is the greatly expanded and revised new version of the previous book. It not only contains considerably more pages, but also 300 additional photos and illustrations. This makes it the definitive reference book on the development of incandescent lamps and burners. With its extremely detailed, unique content, the book is highly recommended for lamp collectors. The book costs EUR 39.99 + shipping costs and can be ordered directly from the author himself: This email address is being protected from spambots. You need JavaScript enabled to view it. - however, this is only the author's contact address, but not his PayPal account!
Cecil A. Meadows: Discovering Oil Lamps
Shire Publications Ltd, 2001. ISBN 0-85263-288-6 (48 pages, English).
A small, unassuming paperback, but bursting with information and black and white illustrations! Published in the "Discovering Series", the booklet gives all kinds of information about British kerosene/paraffin lamps in a concise form. However, as there are often points of overlap with the continental European lamps, the booklet is a valuable source for collectors. First published in 1972; many editions since. Mine is from 2001, possibly there are also later editions. Recommended.
Nadja Maril: Antique Lamp Buyer's Guide – Identifying Late 19th and Early 20th Century American Lighting
Schiffer Publishing Ltd, 2012. ISBN 978-0-7643-4022-2 (144 pages, English).
Revised and supplemented 3rd edition.
A recently published book on antique lamps of American provenance. Richly illustrated. Also includes gas and electric lamps. Even though it is only about American lamps, the book is interesting for collectors of European lamps, because the author describes in detail how to clean, repair, conserve, etc. old lamps. These topics are universal, so the book is recommended for lamp collectors.

Nadja Maril: American Lighting 1840-1940
Schiffer Publishing Ltd, 1995. ISBN 0-88740-879-6 (168 pages, English).
A reference book on American lighting in the period indicated, by the same author of the above book. Also well illustrated, with a great many black and white illustrations of old catalogues and advertisements. Unfortunately, the emphasis is on gas and electric lighting. Recommended for collectors dealing with gas lamps, for example.

J. W. Courter: Center-Draft Kerosene Lamps 1884-1940
Collector Books, Paducah, Kentucky 2008. ISBN 978-1-57432-566-9 (448 pages, English).
An indispensable book for collectors of US central draft lamps, the dominant class of American kerosene/paraffin lamps from about 1885 onwards. The book is the reference book for this type of lamp, if only because of the illustrations of countless variations of the flame discs.


B) Interesting books that are not absolutely necessary:

Here I have collected some books that do not have any significant contributions for the European kerosene/paraffin lamp collector, but can still be interesting because of their illustrations, or their general information content about lighting techniques.
Lichter und Leuchter – Entwicklungsgeschichte und Technik eines alten Kulturgutes (= Lights and Luminaries - History of Development and Technology of an Old Cultural Asset)
Trilux-Lenze GmbH, Arnsberg, 1987. No ISBN number (self-published) (506 pages, German).
The book was published as a commemorative publication for the 75th anniversary of the publishing company. A powerful book with an inexhaustible wealth of information on lighting techniques and their history of development. With countless black and white illustrations. It is astonishing to see the wealth of information with which the authors describe the individual areas of technical development. It is understandable that the kerosene/paraffin lamps are only a small episode. Highly recommended for anyone interested in lighting technology and its history.

Anton Kreuzer: Schönheit Der Petroleumlampen (= Beauty of Kerosene/Paraffin Lamps)
Universitätsverlag Carinthia, Klagenfurt, 1990. ISBN 3-85378-349-X (104 pages text, 32 pages photos, German).
A somewhat "cobbled together" book on kerosene/paraffin lamps for my understanding. I have the feeling that the author mainly compiled his text from old encyclopaedias and from old catalogues of lamp manufacturers and traders. There are many copied advertising pages from manufacturing and trading companies with their black and white illustrations. The actually interesting part with colour photos of kerosene/paraffin lamps, on the other hand, is quite poor and almost without accompanying information. In my opinion, the large-format book does not live up to the expectations raised by its title. Nevertheless, it is interesting because it is one of the very few books in German language only about kerosene/paraffin lamps. It can be found sporadically in antiquarian bookshops, but is very expensive (from 110 euros upwards).

Peter Cuffley: A Complete Catalogue and History of Oil and Kerosene Lamps in Australia
Pioneer Design Studio Pty Ltd, Australia, 1973. ISBN 0-909674-00-0 (192 pages, English).
A concise account of the oil and paraffin lamps mainly used in Australia, with many black and white illustrations, some of them interesting, not otherwise found in other publications. The so-called catalogue section includes only reproduced catalogue pages and advertisements of British lamp manufacturers who also wooed customers in Australia with their catalogues.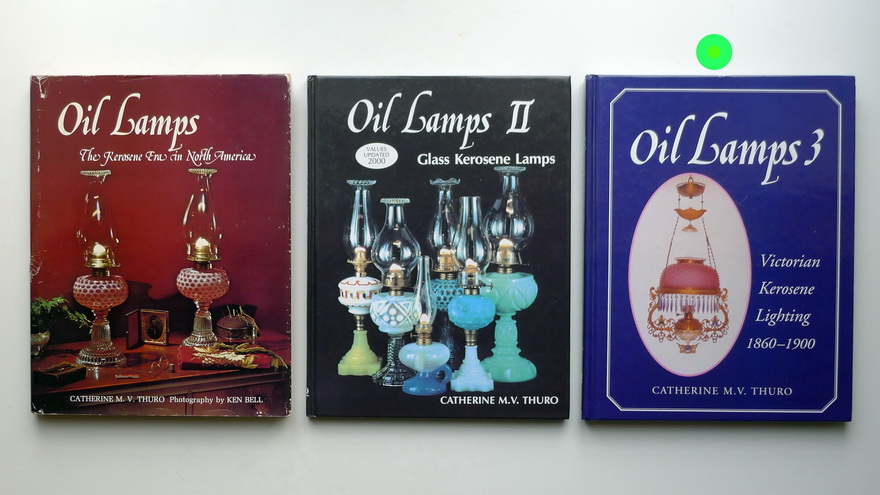 Three books by the famous Canadian collector Catherine Thuro, who has provided very comprehensive material on American kerosene/paraffin lamps.

Catherine M. V. Thuro: Oil Lamps – The Kerosene Era in North America
Wallace-Homestead Book Co, 1981 (4th edition). ISBN 0-87069-121-X (352 pages, English).
Probably the reference book for collectors of American glass lamps in all their inexhaustible variations. The first edition was in 1976. The focus of this weighty book is clearly on the simple American glass lamps for kerosene/paraffin and their design. Thus only interesting for collectors who are interested in this kind of lamps. There is nothing in the book about the later (from about 1885) American kerosene/paraffin lamps with their advanced round burners and exceedingly richly painted glass shades.

Catherine M. V. Thuro: Oil Lamps II – Glass Kerosene Lamps
Collector Books, 1983. ISBN 0-89145-226-5 (164 pages, English).
My copy bears the note " Values Updated 2000", so must have been an edition shortly after 2000. This book by the Canadian author does not offer anything important for the European collector; here too, the typical American glass lamps of the simple kind are the main focus. But there are also references to European lamps in the form of copied pages from catalogues of the time.

Catherine M. V. Thuro: Oil Lamps 3 – Victorian Kerosene Lighting 1860-1900
Collector Books, 2001. ISBN 1-57432-089-0 (287 pages, English).
Perhaps the most valuable of the three publications by the Canadian author, as she not only describes the obligatory, simple lamps made of pressed glass (a large collecting area in the USA!), but also presents the high-quality salon, table and hanging lamps of the last stage of the 19th century in opulent pictures. Therefore recommendable also for European kerosene/paraffin lamp collectors. Much rarer and also more expensive than the author's two previous books.

Jonathan Bourne and Vanessa Brett: L'art du luminaire (= The Art of Lighting)
Flammarion, 1992. ISBN 2-08-012411-0 (255 pages, French).
The French translation of the original English book Lighting in the Domestic Interior, Renaissance to Art Nouveau (Philip Wilson Publishers Ltd., 1991).
A quite opulently designed book (837 illustrations!) on the art history of lamps, chandeliers, candlesticks, etc., with exquisite pictorial material. The emphasis is on candlesticks, candelabra and candle chandeliers; but the material presented on oil and kerosene/paraffin lamps is also worth seeing. The original English edition is available at reasonable prices from antiquarian booksellers.

À la tombée de la nuit – Art et histoire de l'éclairage (= At the Twilight of the Night - Art and History of Lighting)
Musée d'art et d'histoire de Genève, 2012. ISBN 978-88-7439-608-5 (256 pages, French).
Exhibition catalogue for the exhibition of the same name in Geneva (24 February - 19 August 2012). Very beautifully prepared catalogue, illustrated like an art book, of an exhibition on the history and art of lighting, to which Ara Kebapcioglu contributed several pieces from his collection and a chapter. Valuable because of the carefully researched information content, but apart from the great photos not accessible to people without knowledge of French. Probably available from the museum in Geneva, if still available.

Inès Heugel (text) and Christian Sarramon (photos): Éclairage de charme (= Charming Lighting)
Editions du Chêne, 2008. ISBN 978-2-84277-696-1 (184 pages, French).
A very nicely illustrated book about all kinds of lamps as collectibles. The (unfortunately rather small) section on kerosene/paraffin lamps was written by my friend Ara Kebapcioglu, and the lamps illustrated are from his collection. The book lives from the atmospheric and skilfully taken photos, therefore something for leisure hours for people without knowledge of French.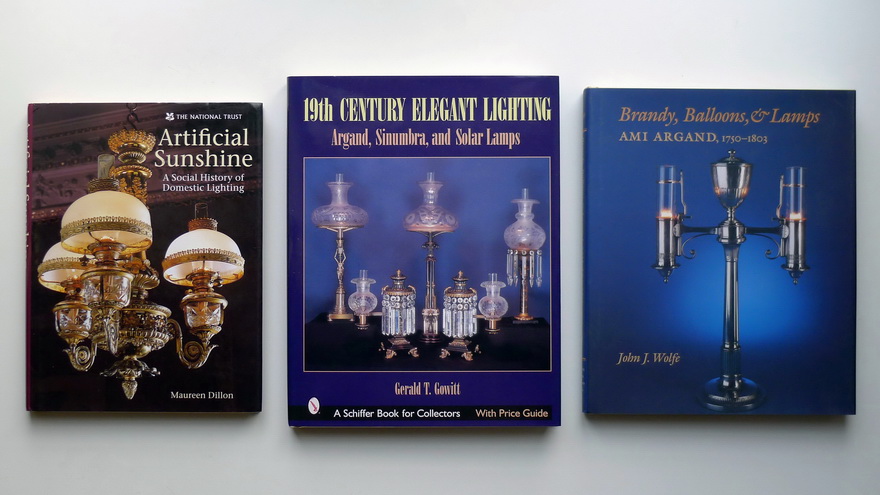 Maureen Dillon: Artificial Sunshine – A Social History of Domestic Lighting
The National Trust, London, 2002. ISBN 0-7078-0288-1 (224 pages, English).
The book tells the story of the development of artificial light from the British point of view. Therefore also very informative from a cultural-historical point of view. Beautifully illustrated with the partly beautiful lamps from the domiciles of the British high nobility.

Gerald T. Gowitt: 19th Century Elegant Lighting – Argand, Sinumbra, and Solar Lamps
Schiffer Publishing Ltd, Atglen, USA, 2002. ISBN 0-7643-1514-5 (240 pages, English).
An opulent, beautifully illustrated book about the noble Argand, Sinumbra, and Solar lamps of mainly American and British provenance. For well-heeled collectors of such museum-quality lamps, an indisputable reference book. Highly recommended for people who can't get enough of large-format, professional photographs of lamps of this kind.

John J. Wolfe: Brandy, Balloons, & Lamps – Ami Argand, 1750-1803
Southern Illinois University Press, USA, 1999. ISBN 0-8093-2278-1 (192 pages, English).
A detailed description of the life of Ami Argand and about the history of his invention. With many illustrations. Primarily interesting for collectors of early oil lamps with Argand's burner.


C) Lamp books that report very little about kerosene/paraffin lamps:

Here are some German books about lamps and candlesticks, but they report very little about kerosene/paraffin lamps (only 1-2 pages). I bought them hoping to get more information about my collecting area, but was disappointed. Buying these books is only worthwhile for those who are interested in old lamps in general.

Sigrid Wechssler-Kümmel: Schöne Lampen, Leuchter und Laternen (= Beautiful Lamps, Candlesticks/Candelabras and Lanterns)
Keysersche Verlagsbuchhandlung, Heidelberg and Munich, 1962. Without ISBN.

Gerhard Wietek: Altes Gerät für Feuer und Licht (= Old Device for Fire and Light)
Gerhard Stalling Verlag, Oldenburg and Hamburg, 1964. Without ISBN.

Hella Heintschel: Lampen Leuchter Laternen (= Lamps Candlesticks/Candelabras Lanterns)
Pinguin Verlag, Innsbruck, 1975 and Umschau Verlag, Frankfurt am Main. Without ISBN.

Sigrid Wechssler: Lampen, Leuchten und Laternen (= Lamps, Luminaires and Lanterns)
Keysers Sammlerbibliothek, Munich, 1983. ISBN 3-87405-162-5.

Renate Möller: Lampen, Lüster und Laternen (= Lamps, Chandeliers and Lanterns)
Deutscher Kunstverlag, Munich and Berlin, 2000. From the series: Weltkunst Antiquitäten-Führer. ISBN 3-422-06265-3.