My Lamps by R. Ditmar
When people talk about Austrian kerosene/paraffin lamps, they are mainly talking about the lamps made by R. Ditmar. The great Austrian Dual Monarchy had - in contrast to the German Empire - only very few lamp manufacturers. The lamp manufactory of R. Ditmar in Vienna was not only the largest, but also the most highly regarded among the Austrian lamp producers. This company had designed the Viennese flat burner very early on, which later found countless imitators not only in Europe but all over the world and was used in millions of households as an inexpensive source of light. In addition, R. Ditmar also had very high-quality, high-priced lamps in his range that met the highest demands. Therefore, such lamps are sought-after collectors' items.

With the help of the catalogues and through other characteristics, I was able to identify 25 lamps in my collection as Ditmar lamps. Most of them are either complete cast zinc lamps or lamps that have a glass font above a cast zinc base.

With three exceptions, I have succeeded in fitting all Ditmar lamps in my collection with Ditmar burners. I was also able to fit some lamps with original Ditmar glass chimneys. In rare cases, it was again possible to find either original shades or at least shades very similar to the catalogue picture.

Zinc cast lamps by R. Ditmar (numbers in brackets = model no. by R. Ditmar)
From left: L.051 (6368) – L.064 – L.084 / L.095 – L.104 – L.182 (8086)

L.051 is a rather squat zinc cast lamp equipped with two handles. It carries a 15''' Jupiter burner and a matching Paris shade, according to the catalogue picture. The round, black lacquered base is made of slate.

Lamp L.064 has a decorative pattern identical in places to the lamp above, but is constructed quite differently. Here the vase is made of black lacquered zinc sheet with applied cast zinc medallions. The 15''' Meteor burner is fitted with the correct Meteor chimney. A (probably German) melon-shaped tulip completes the lamp.

L.084 with the exuberant neo-renaissance decor was a successful model. Several other models of this lamp exist with minor changes in the decoration of the vase and base. Here I have installed a 20''' Saturn burner. A finely etched Veritas tulip shade crowns the lamp.

L.095 is an elaborately constructed lamp made of several zinc castings and zinc sheets. The Kosmos burner on it is patented in 1877 and bears the designation "Ditmar Wiener Brenner"; presumably a forerunner of the later Jupiter burner. The round, profiled base is made of lacquered slate.

The lamp L.104 is very comparable in construction to the previous lamp. Several zinc cast and zinc sheet parts, combined with the slate base, also form this lamp. Here, too, the burner is the rare Ditmar Wiener Brenner from 1877. The tulip shade is by St. Louis.

The last lamp in the photo, L.182, is probably somewhat older. Here three griffins carry the very elaborately constructed vase. A 15''' Sonnenbrenner and an original ball shade by R. Ditmar crown the lamp. The base is made of a triangular slate plate.

Other zinc cast lamps in the collection
From left: L.196 (4828) – L.202 (6780) – L.204 / L.150 – L.060 (8623) – L.262 (6111)

The small lamp L.196 carries an 11''' flat burner by R. Ditmar and a light green Vesta shade by Schreiber & Neffen. The bronzing of the cast zinc parts is still very well preserved.

The lamp L.202 also has the original bronzing in copper tone. I only had to clean it with steel wool. According to the catalogue picture, I equipped this lamp with a 15''' Sonnenbrenner. A finely etched British tulip shade in a well-matching colour was added.

The large, magnificent lamp L.204, a great find from southern Italy, is probably by R. Ditmar, as the female figure in the column part is by R. Ditmar. Here a flame disc burner by Schwintzer & Gräff and a large, elongated, rare tulip shade are in place. The lamp is bronzed by me.

L.150 with its slender, conical shape and with Hermes, the messenger of the gods, as a decorative element was initially among the lamps of unknown origin, because I had no unmistakable reference to Ditmar. Since this lamp was offered in eBay Great Britain with the typical decorated font collar of Ditmar, I got certainty about its origin. A 20''' Adler burner from K&T is doing duty here.

L.060 displays a half-naked young woman in quadruplicate (an early precursor of the relevant men's magazines?). Here a 15''' Flachdocht-Sonnenbrenner by Gebr. Brünner (not the Sonnenbrenner by R. Ditmar) is doing duty, supported by a glass chimney of the same brand. Bronzing is again done by me.

The lamp L.262 is a somewhat earlier zinc cast lamp in an unusual form. Here three lion paws support the squat lamp. The triangular base is again made of lacquered slate. I succeeded in realising the conical Vesta shade of the catalogue illustration here as well. The copper bronzing is my work.

Zinc cast lamps with a glass font
From left: L.184 (6177) – L.250 (6540) – L.349 (5581 and 6730) – L.353 (6392) / L.136 (6539) – L.198 (6975) – L.206 (6948) – L.142 (11767)

The relatively simple lamp L.184 is shown in the catalogue with a different, faceted cut font. However, the glass font here is also by R. Ditmar. A 15''' Jupiter burner and a Paris shade complete the lamp.

The lamp L.250 also looks quite simple. The burner on it, however, is a rarity: it is a 15''' Patent-Saugdocht-Rundbrenner (= Patent transport wick round burner), which - completely analogous to the Sonnenbrenner - is equipped with a burning and a transport wick. The faceted crystal font and the shade holder are also original Ditmar parts.

L.349 seems to have been a successful model, as it appears in two Ditmar catalogues from 1869 and 1897, each with different model numbers. Here a rare 10''' Splendidus burner is at work with its equally marked chimney. The cranberry tulip shade is from Great Britain.

The triangularly designed L.353 should also be quite old, considering its shape; however, it still appears in the 1897 catalogue. According to its original silver colour, I have bronzed it to match. The burner is a 6''' Jupiter burner.

L.136 has a nickel-plated base made of cast zinc and a glass font in amber colour. The supplied Vesta shade with a pink colour does not go well with the lamp in terms of colour, but remains there for lack of other alternatives. The burner is a 5''' flat burner.

The completely preserved lamp L.198 is a find in Salzburg. It is equipped with an 8''' flat burner from Hungary and a beautifully painted Vesta shade. The chimney with the large spherical bulge is probably a later addition.

L.206 differs quite a bit from the other lamps with its unusual construction. Here the glass font is set into a magnificent zinc cast frame. 15''' Jupiter burner and an old ball shade for Moderator lamps are further components of the lamp.

The lamp L.142 is probably of later date; it is illustrated in the catalogue of 1926, i.e. in the Art Deco period. The bronzing of the base is well preserved. The 15''' Präsident burner came with the lamp. The cut crystal font is also by Ditmar.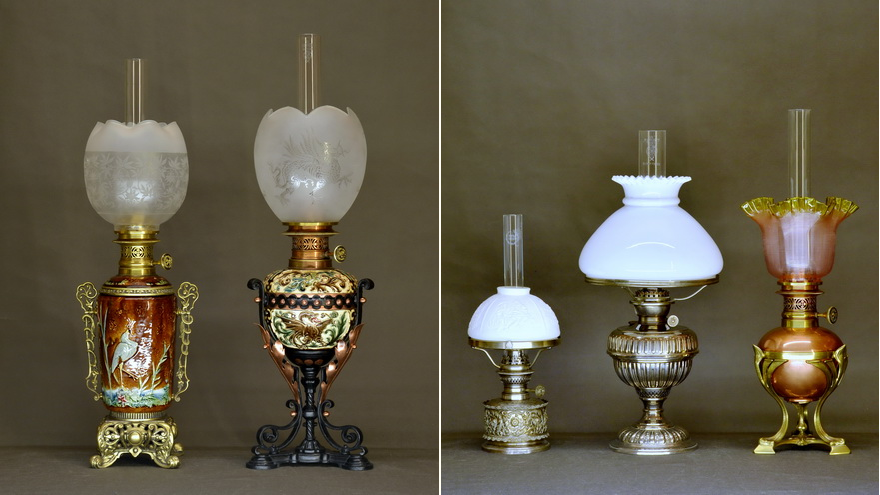 Majolica and metal lamps
From left: L.324 (6854) – L.260 (8393) / L.327 – L.002 (8981) – L.012 (4863)

The majolica lamp L.324 is painted with a stork at the front and meadow flowers at the back. The elaborately decorated base is made of cast zinc. I put a somewhat spherical, finely etched tulip shade from France on the 15''' Sonnenbrenner.

L.260 came to me completely rusted and encrusted, partly covered with green copper carbonate, from a damp cellar of an Austrian hunting lodge (seller's information). I took this lamp completely apart and spent days cleaning and restoring it. An 18''' Sonnenbrenner and a Baccarat tulip shade with matching dragon motif completed the lamp in a very stylish way.

I could only identify the L.327 as a Ditmar lamp by a very characteristic washer. This lamp carries a rarely found Ditmar burner with separate transport and burning wicks: 8''' or 11''' Patent-Saugdocht-Rundbrenner (= Patent transport wick round burner; the size cannot be identified with certainty). The small lithophane shade shows 4 genre scenes by the Spanish baroque painter Murillo.

The Favorit lamp L.002 made of nickel-plated brass sheet seems to have been a successful model; it is shown unchanged in the catalogues from 1897 to 1926. I managed to find a Vesta shade that looks quite similar to the catalogue picture.

L.012 is a stylistically pure Art Nouveau lamp made of copper and brass, reduced to a few stylistic elements, which is rarely encountered. I chose the tulip shade because of the identical colour scheme, although a ball shade might be stylistically more appropriate. The 15''' Sonnenbrenner came with the lamp.